I'm hosting another hands-on pickle workshop! We are going to prep some delicious veggies for fermentation together, and make a spicy (to your individual taste) kimchi-inspired ferment.
Sign up here: https://goo.gl/forms/BGFjuuNG73LG4UcD2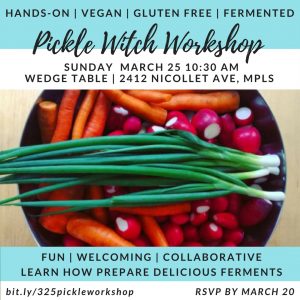 Facebook: https://www.facebook.com/events/172846266682620/
Frequently Asked Questions
Where/When is the workshop?
How do I sign up?
What should I expect?
What will I come home with?
What am I responsible for bringing?
How much does this cost?
What do I do if I have more questions?
Who is the Pickle Witch?
Where/When is the workshop?
Sunday, March 25, 10:30-12:30p
Wedge Table: 2412 Nicollet Ave, Minneapolis, MN 55404
This is a wheelchair accessible location.
How do I sign up?
Fill out this form: https://goo.gl/forms/BGFjuuNG73LG4UcD2
Make a payment