Pickle Witch is fermenting, preserving, and curing foods in a Minneapolis kitchen. All of my fermented pickles are vegan and gluten-free, in addition to being delicious and packed with healthy, live probiotics. I use the best possible produce and ingredients, make food in small batches with a touch of magic, and use sustainable packaging.
All of these products make great gifts!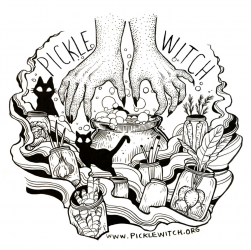 Join the Pickle Witch CSF to get 5 jars of ferments November through March!
Since the 80s people have been supporting the local organic food movement through Community Supported Agriculture (CSA). By buying "shares" of a farmer's produce before their crops go in the ground, consumers guarantee the farmers have the cash to live and plant, and share in the financial risk and reward of the uncertainties (drought! bugs! the unknown!) of farming without farmers being reliant on financial institutions. Learn more about CSA.
This isn't a CSA, where you are buying shares to support a farmer and buck the industrialization of agriculture. This is a CSF!  Read the end of this post for more on how this model is supporting me and people like me.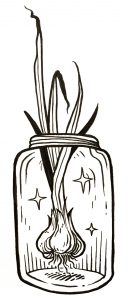 How to sign up
Pick a subscription, and fill out this form.
You will receive a confirmation email, with payment information or information about being on the waiting list.
Quart subscription $90
$20 jar deposit- you pay $110 up front and get an all-or-nothing jar return of $20 at the end of the subscription if you return all five jars.
Pint subscription $60
$20 jar deposit- you pay $80 up front and get an all-or-nothing jar return of $20 at the end of the subscription if you return all five jars.
Half-pint subscription $40
$20 jar deposit- you pay $60 up front and get an all-or-nothing jar return of $20 at the end of the subscription if you return all five jars.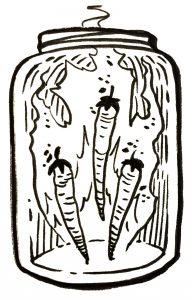 With each subscription you will receive
a jar of fermented goods loaded with healthy probiotics, funky flavors, and food magic that you'll pick up on the third Monday of the month
some fun Pickle Witch goodies
emails detailing the delicious ferments you'll be picking up
the opportunity to participate in a hands-on fermentation workshop (February)
the opportunity to participate in a spring (week of April 7-11) Pickle Party!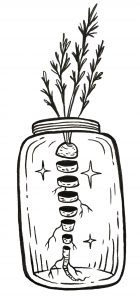 How it works
November through March, on the third Monday, 3p-7p you'll pick up your ferments in Powderhorn. If you can't make those times, let me know in advance! If you bring back every jar (or 5 clean canning jars), at the end of the subscription period you'll receive a $20 credit in cash or toward more pickles. Every jar you get through subscription will count toward your buyer reward cards- buy ten jars and get one pint/16 oz. free! There are no refunds or discounts. I am not able to buy from my farmer friends during the winter, but I will always be using the best organic produce I can find! If I have more interest than I have capacity to make, I will put you on a waiting list.
Pickle pick-ups in Powderhorn
November 20
December 18
January 15
February 19
March 19
Examples of ferments you will be receiving
Sweet and funky Salvadoran curtido
Gingery cabbage and carrots
Medium spicy radish bites
Purple sesame cabbage
Medium spicy napa cabbage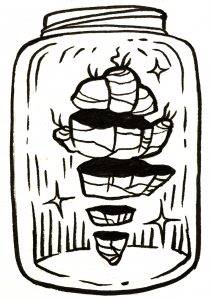 By subscribing you'll be supporting Pickle Witch
To reclaim the word and image of the witch is to reclaim the right to trust my intuition, gather with other wise Black, Indigenous, People of Color (BIPOC), trans, femme, womxn, learn about healing plants, and resist gender roles for which we have historically been persecuted. Food is a sacred part of my healing practice.
Nothing is more threatening to the toxic establishment than communities of knowledgeable healers, empaths, powerful transgender and non-binary folks, and womxn. One of the things we can do to build our power is to keep gathering together, keep trusting our instincts, and keep developing our skills. Personally, I'm invested in continuing to uplift the Black, Indigenous, People of Color, transgender, non-binary, and queer witches. Because even as white cis hetero women struggle compared to white men, the burden on our greater QT BIPOC community is even more formidable and deadly.
I make spaces for other BIPOC makers and creatives to support themselves and showcase their talents and hustles, and I'm committed to sharing all of the fermentation skills I have. I'm a QTBIPOC cottage food producer, and I support myself with side hustles like selling my pickles. This CSF is one way that you can support me!