Tuesday, November 7 is election day in Minneapolis
Races you can vote on: Mayor, City Council, and Park Board
I would recommend voting in all of the races.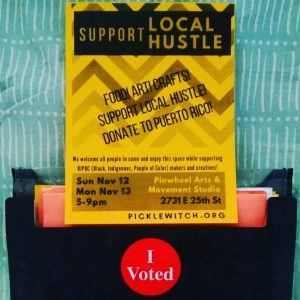 If you haven't voted, it's been awhile, or you just want to know more, here's my voting guide for Minneapolis.
Polls are open 7am-8pm Tuesday

Be in line at your polling place at 8p
Find where you vote here
Get your sample ballot here

I HIGHLY recommend looking at/printing a sample ballot before going to the polls. Why spend any more time there than you have to?

Are you registered to vote?

Register to vote, day-of, at the polls

Minnesota is one of those magical states where you don't need an ID to vote, and you can register day-of. I will vouch for you if you live in Ward 9! Check your registration here.
Minneapolis uses ranked-choice voting. You vote for more than one person for each office, ranked in order of choice. This is also called "instant runoff voting" in situations where there is only one seat, if you're familiar with that term. It's a little bit hard to explain, so I really appreciate this MPR video which explains Ranked Choice Voting nicely!
Reminders…
Voter Guides
If you're cramming and need more info, these are voting guides I've read, in order of how much I leaned on them (no shade).
E.G.'s legendary voter guide. Includes 7/16 candidates' (Rahman, Frey, Hoch, Levy-Pounds, Dehn, Flowers, and Hodges) answers to questions about racial disparities (reparations, housing, policing) at the Southside mayoral forum. Text and video from Mayoral Forum.
Mpls Votes 2017 is a Twin Cities Daily Planet (local independent news!) project that lets you do side-by-side comparisons of candidates' positions.
Elections.WedgeLive is a Wedge LIVE collaboration that aggregates endorsements, surveys and forums, social, and campaign finance data. John Edwards aka Wedge Live is running a write-in campaign for the Parks Board of Estimation and Taxation.
Naomi Kritzer does one of the most in depth interpretations of local politics, which I like, but I don't agree with their picks about 50% of the time, perhaps because of their race and class privilege relative to mine.
Pollen Voter Guide is a collaboration between Pollen, Voices For Racial Justice, and local hip hop label Rhymesayers which includes questions about visions of police-free Minneapolis. Good to get a feel for candidates, and specifically engage around questions of policing and housing, but responses were a little verbose and light on policy compared to the guides above.
Our Streets Candidate Questionnaires on Bike/Walk Issues was compiled by the local non profit bike/walk/roll advocacy organization.
My eternal thanks to Ashley Fairbanks​, Erica Mauter for Ward 11​, Haddayr Copley-Woods, and E.G. Nelson​ and more for these resources! Thank you to all of the volunteers and campaigns working to get out the vote, and for everyone doing their part to make sure the Park Board isn't 100% white, among other shameful inequities in our local government.
I don't exactly have enthusiasm or trust in our current iteration of class-preserving representative democracy, but I still participate to try to offset all the voter suppression! Local races affect me and my neighborhood so deeply, that I need to be out here, voting. Out here gently harassing my friends and neighbors with "Have you voted yet? Want me to go with you? I can vouch for you!" texts. Out  here voting for people who will not support cutting social services, do not support giving police more power to harass/threaten/murder us with. Out here voting for people who will not support the use of pesticides or poisons in our parks, who will fight for youth voices to be heard and valued, who care about the housing crisis, care about restoring voting rights to felons, and are dedicated to actively resisting gentrification. You have to be out here for that too, if you have the opportunity to vote.