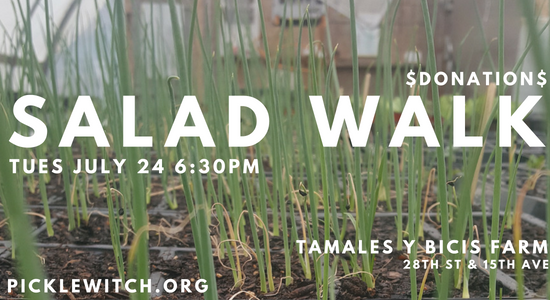 Please join Pickle Witch for a Salad Walk!
Tuesday, July 24
Meet at 6
We will meet at 6pm at Tamales y Bicicletas Farm. Have a nibble, take a sip, and enjoy this urban farm. At 6:30 we will gather to talk about foraging, and then we will walk around the farm to fill our bowls with wild foods. We will be done by 7:30, but I encourage you to hang out and eat and socialize until the bugs come out around 9.
Pickle Witch pickles and shirts will be for sale at this event.
Please Bring
A hat or some sun protection, a bowl and eating utensil for your foraged salad, a blanket to sit on, a few dollars if you value the energy and love that goes into these events. If you bring bug spray please exit the farm before doing any kind of spraying!
This event is donation based. We want to remain accessible to the neighborhood and the people that Tamales y Bicis Farm serves, in the spirit of their mission! I am also someone of historically marginalized identities and would appreciate people of historically privileged identities (white, cis, hetero, able bodied, etc.) to consider donating at the top of the scale.
Some disposable plates and forks, some blankets for sitting, a wild-crafted vinaigrette, some potions and nibbles. I will be bringing fermented pickles and shirts to sell, as well! (Prices are $12-$28 cash only)
This salad walk is an introduction to some common edibles you can forage. You don't have to go very far to find abundance in our urban environment. Please keep in mind that we will be discussing safety when foraging and we will leave decisions about what is safe for your body to YOU. We are all responsible for ourselves. <3
The Space:
Tamales Y. Bicicletas
Farm
This farm, run by an amazing group of young farmers, connect youth to the land. They are certified organic and chemical free, give away much of their produce, and have community plots. It is a magical green and growing place right in the heart of Philips <3 neighborhood. Please do not smoke (unless it is your medicine) or use bug spray/chemicals on the farm, thank you!
You can volunteer with the farm! They are nice enough to let me drop in and pull a few weeds whenever I want, and I appreciate that I feel this garden is mine, too. Email Ashley at ashley.o@tamalesybicicletas.org to get in touch with their many opportunities.
This is an outdoor farm with no steps, no concrete, and uneven ground. There is an outdoor (no/all gender) portapotty. There is a little shade and a picnic table, but most of us will be sitting on the ground if we are able, and leaving the benches for people who need them. There are bike racks in the front, and you can also free lock them inside the farm as long as there is a wide walking path. This is accessible via the 21. If you drive, there is on-street parking.
I believe that no space is safe from oppressive actions and language, but in this space we will commit to working together to create a safer environment for people holding historically marginalized identities. Plain speak? Racism, sexism, transphobia, and other things we say and do to gain power over others will not be allowed in this space.
When you have any concerns please approach me and I will be happy to apologize and change my own behavior, or help mediate things as they come up. Calling out oppressive behavior is a lot of work, and I intend to honor that when it happens.