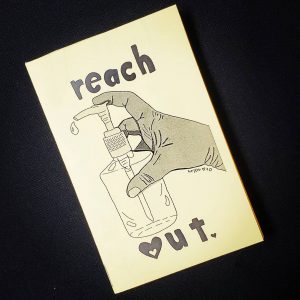 This mini zine contains 7 pages of content all about hand washing. It is black and white, measures 2.75″ x 4.25″, and folds out to an 8.5″ x 11″ diagram of a DIY hand washing station. Featuring cover art by hc lou, and diagram by Annelise Brandel Tanis.
Thanks to the generous support of the Coalition of Asian American Leaders, I am able to give this zine away for free! Or you can purchase a printed copy at a Pickle Witch event or purchase online.
Download and print your own zine, here. Print "to fit" 8.5″ x 11″ paper, double sided.
Learn how to fold the zine, here.