#SupportLocalHustle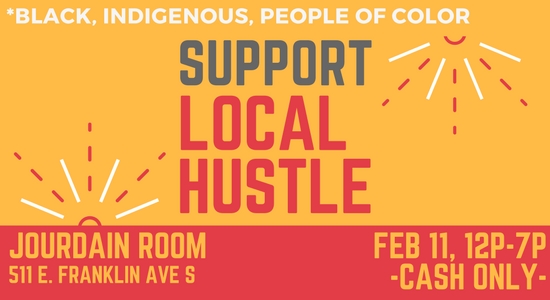 Our next Support Local Hustle: BIPOC pop up will be held at
Jourdain Room: 511 Franklin Ave S
Sunday, February 11, 12-7pm
RSVP to our Facebook event
Please join us and support local BIPOC (Black, Indigenous, People of Color) artists, bakers, creatives, and makers at this warm and inviting pop up!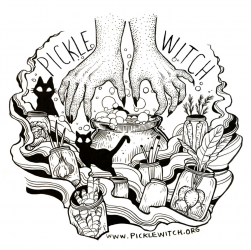 This event is free, cash only, and open to all folks who would like to contribute to a respectful space explicitly against sexism, transphobia, and racism.
Vendors will be selling their art, baked goods, pickles, and jewelry, among other treasures. Goods are mostly $1-$40.
If you would like to donate at the door, we will be raising money for Cafe Southside, a local safer space for queer and trans folks in South Minneapolis.
Follow us with #SupportLocalHustle, RSVP to our Facebook event
Getting there
Directions to 511 Franklin Ave S
Jourdain Room is located on Franklin Avenue in the Ventura Village Neighborhood in Minneapolis. It is accessible by bus routes 2, 9, 39, and there is a bike rack on the corner with additional bike parking in front of Hope Community.
The space has no steps to get in, and one single stall (no-/all-gender) bathroom with handrails. Navigating inside the space with a wheelchair would be very tight, but doable.
What is #supportlocalhustle?
A hustle is something that we do to survive. A hustle is hard work. A hustle is something we pour ourselves into. A hustle is something to be proud of!
Supporting local hustle means showing support to the hardworking vendors out here making it happen.
All of these vendors are proudly BIPOC. Some of us are queer, trans, disabled, chronically ill. We recognize that there are many market spaces that are not welcoming to us, and there are systems in place that exclude us from being  invited, and successful.
This pop up is an answer to that! We want to provide opportunities for our beautiful, hardworking, creative selves to succeed. This is how we celebrate and uplift our BIPOC community. We want to celebrate our hustles in a fun and inclusive atmosphere, while raising money for a good cause.
Your optional door donation will benefit
Brittney's Place: A space for cis and trans women and girls escaping sexual violence.
Vendors you'll be supporting with your cash
Pickle Witch (that's me!)
hclou art
Stitch Monkey
Raj & Taj
Handspun Rainbows
Mayamade
Goods by Rowan Emmanuel
NINE Beauty
Mama Miah's Sweet Treats
Arte Ramona
Firebird Press
B.Ebony Art and Adornments
Sophea Photography
Julia Winkles
Marina Castillo Art
Daeja's Jewelry
Stina's organic creations
Want to be a vendor? Sign up here!
Follow us with #SupportLocalHustle, RSVP to our Facebook event