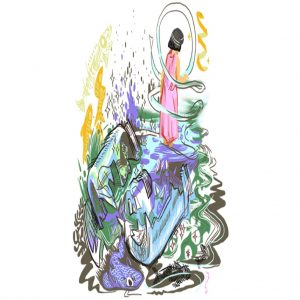 I just listened to an illuminating reading of "1000-Year-Old Ghosts," a short story written by Asian American author Laura Chow Reeves. Levar Burton and his golden voice narrated this story on his "Reading Rainbow for adults" podcast, "Levar Burton Reads." You can find this story in PEN America Best Debut Short Stories 2017 anthology or read it online at Hyphen Magazine.
This story meant so much to me personally. It's beautiful, it's haunting, and confronts so many things relating to memory, family, matriarchy, loss, and… pickles.
For June, we present an original short story by Laura Chow Reeve, about three generations of women who wrestle with their memories in a unique way — by pickling them. We love the magical realism of the story, with rich imagery that elicits all senses, and a weight that we think many people can relate to.
— Karissa Chen, Fiction & Poetry Editor at Hyphen Magazine
"Anne, grab me the measuring cups," she said one afternoon.

"Popo," I said. "I'm Katie. Anne was my mother." Her eyebrows furrowed. She moved around me and grabbed the measuring cups for herself. The symptoms my mother had witnessed in Popo years before had only gotten worse. She was shriveling.

"Please stop. This is making you sick," I said. She continued to measure and chop; she licked her index finger, dipped it into a bowl of salt in front of her, and then popped it back in her mouth to taste. I wanted to imitate her, feel the small grains on my own tongue, but I stopped myself.