"Did You Eat?" is a publication dedicated to appreciating food culture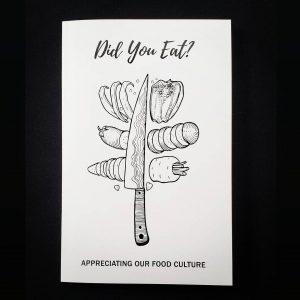 Over 30 high quality pages of original content including a beautiful collection of stories and images by artists of Color that hold the complexity of personal journeys.
It is such an honor to create something physical and lasting on these garlic skin pages, when most flavors and aromas only live on in ephemeral memories. Endless gratitude to everyone who contributed stories, images, history, songs, funds, and love to this community effort.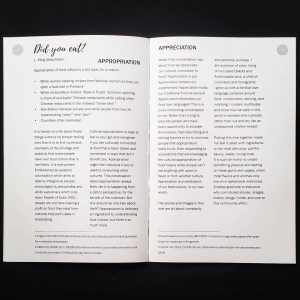 Sample this zine
Sample the zine by downloading a one page PDF, and printing, cutting, and folding it using this youtube tutorial. Just a tiny bite before you sink your teeth into the full zine.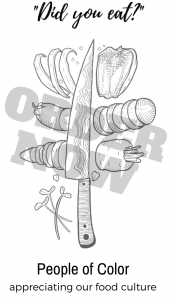 Buy this zine
There are three options for buying this zine.
Visit Pickle Witch at an event (Instagram for the latest) $10- $20 sliding scale
Purchase online and pickup your copy in Powderhorn, Minneapolis $10- $20 sliding scale
Purchase online and have a copy shipped to you (US only) $20
Pickup in Powderhorn
Sliding scale pricing means you pay what you can, within a range. The idea is that it makes art more affordable, and those who can pay more will subsidize those who pay less.
Shipped to you
Please put the shipping address in "Notes to seller." If there is no note, I will ship it to the address attached to your Paypal account. They will ship within a week of purchase, and will typically arrive within two weeks.
UPDATE: Shipping is on hold until COVID-19 settles down. Feel free to place orders but there will be a shipping delay!