Maangchi
I am all about Maangchi! She is Korean, and has been documenting and teaching about Korean cuisine for years. I think she is an international treasure. She is so enthusiastic and helpful in her youtube videos and blog. Watch one of her videos and you will fall in love with her.
Maangchi has a cookbook, "Maangchi's Real Korean Cooking," some e-cookbooks you can download for free, and of course you can watch her youtube channel.
Maangchi's kimchi recipe, kimchi instructional youtube.
For my winter birthday, I had a kimchi making party! Stone soup style,where everyone brought veggies, and we all made it together, and everyone left with some. It was inspired by Maangchi's story of her mother making kimjang kimchi:
As I mention in the video, my mom used to make kimchi from 200 heads of cabbage! This was kimjang kimchi, made with her friends at the beginning of winter, and meant to last until the spring. 3 to 4 of her friends would come over and help her chop vegetables and most importantly, spread the paste on the leaves. This always needs to be done by hand. They would bring their own rubber gloves, and spend the day talking and laughing, and always had pollock stew or beef radish soup for lunch. They had a lot of fun!

At the end of the day they would take some kimchi home with them, but my mom would get all the rest, which lasted my whole family through the winter. And when my mom's friends needed to make their winter kimchi, my mom brought her gloves over to their houses and helped them, like they did for her.
"Cook Korean" by Robin Ha
This is a comic book with recipes. It's beautiful, narrative, and the recipes are delicious! Thank you, Mom, for buying this for me!
Recipes from kimchimari
The recipes on this blog are easy to follow, and I love that it was created "to share my authentic Korean recipes with my only daughter as she went off to college." What a lucky daughter!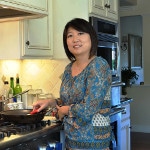 Especially check out this recipe for "Easy Brussels Sprouts with Kimchi and Pancetta" recipe. (I left out the pancetta, no problem.)
While we will only cover a couple kimchis here, there are two hundred "kimchis of record," according to Korea's kimchi newspaper, the Red Lady. Napa cabbage is the best-known kimchi. It is the kimchi that you find in your local supermarket, placed atop tacos and at the center of the banchan flourish.

Brined and seasoned heads of napa cabbage are marinated in a purée of things like onion, ginger, garlic, Asian pear, fermented baby shrimp, gochugaru (coarsely ground red pepper flakes), sugar, carrots, and daikon. A great baechu kimchi can be eaten fresh, like a salad. Fermented for anywhere from a week to a year—the older stuff is used in soups and sometimes arrives as banchan, if you're lucky—it develops some fizz, which dances on your tongue like seltzer.