Kimchi for Breakfast
Dakota from Kimchi for Breakfast wrote a post listing "required foodpropriation reading." It's brilliant, extensive, and current. I'm working my way through it!

Racist Sandwich
"Food, Race, Class, Gender." I appreciate that this podcast looks at how the culinary world can be really problematic. One of the hosts told a sweet and heartbreaking story of their first restaurant job. They have great guests and I especially appreciate this episode where Jenny Yang talks about Bon Appetit's pho-tastrophe, and the parody video, below, she made as a response.
Bad Appetite Magazine with Jenny Yang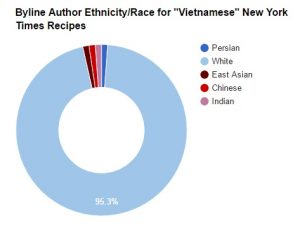 I do not doubt that these people are talented chefs. But what irks me is that many will argue that they deserve the title of 'authority', and that despite their whiteness, they are hardly foreigners. After all, many of these chefs have years of classical training (or personal study) in the countries they specialize in. They've learned the language! They know the people! They've immersed themselves in the culture! They've studied the craft! How positively adventurous! How very admirable! But here's the thing: my parents—and every other immigrant—moved to a new country and learned the language, got to know the people, adopted their way of life, simply because they were forced to, and not because it was fun or exotic or interesting or something that they were curious or passionate about. How come we don't see swaths of immigrants being publicly lauded for culturally assimilating?

It's only special when White people do it, I guess.